tête d'impression multifonction unique petite imprimante à plat UV

Caractéristiques
---
Utilisation: Imprimante à cartes, Imprimante à chiffons, Imprimante d'étiquettes, Imprimante papier, Imprimante à tubes
Type de plaque: Imprimante à plat
Type: Imprimante à jet d'encre
Condition: Nouveau
Grade automatique: automatique
Tension: 110V / 220V
Dimensions(L*W*H):107CM*135CM*67CM
Poids: 180 kg
Print size:0.6m*0.6m
Print head:TX800 OR DX5
Printer Type:Multi function single print head small uv flatbed printer
Print Color:C.M.Y.K+W or C.M.Y.K*2 , 8 nozzles
Print height:100mm
Print method:Micro piezo technology
Garantie: un an
Print speed:1.5-24 squre meter each hour
UV System:UV LED Lamp
Packing:wooden case, fumigation
Service après-vente fourni: Ingénieurs disponibles pour entretenir des machines à l'étranger
Description du produit
---
| | |
| --- | --- |
| Taille d'impression | 0.6m*0.6m |
| Tête d'impression | TX800 OR DX5 |
| Print head(s) | 1 print head |
| Couleur d'impression | C.M.Y.K+W or C.M.Y.K*2 , 8 nozzles |
| Hauteur d'impression | 100mm |
| Print accuracy | 1440 dpi |
| Print weight | 50KG weight precision nondestructive |
| Print method | Micro piezo technology |
| Droplet size | Variable-Sized Droplet Technology, Minimum 3.5pl drop |
| Vitesse d'impression | 1.5-24 squre meter each hour |
| Résolution d'impression | 4pass,6pass,8pass,12pass,16pass |
| Puissance requise | 110-220V 50-60HZ 360W |
| UV System | UV LED Lamp |
| Work Environment | Temperature 5-35℃, humidity 20-80RH |
| Poids | 150KG/180KG |
| Equipment size | 107CM*135CM*67CM |
| Emballage | wooden case, fumigation |
Device Features
---
• Versatile, a multi-purpose machine, textile, UV flexible application mode
• automatic lift platform, easy to operate, reduce the bit error
• printing mode optional mist or spray line, spraying line speed, mist lifelike drawing and put an end to the bars
• three sections squeegee and a peristaltic pump device to prevent nozzle clogging and extend nozzle life
• Automatic nozzle cleaning and moisturizing means, ensure that the ink fluency prevent nozzle clogging
• You can set any location as print origin, easy to learn
• Silent linear guide, high precision and stable performance, through the European Union CE certification, quality and more secure
• The machine prints the platform has the scale, easy to measure visual display printed material
• Use imported LED-UV lamp, cold light source, no radiation, low power consumption, environmental protection and energy saving
• adsorption platform, intelligent vacuum suction device can be conveniently blown pick material
• The machine prints highly customized models based on the actual situation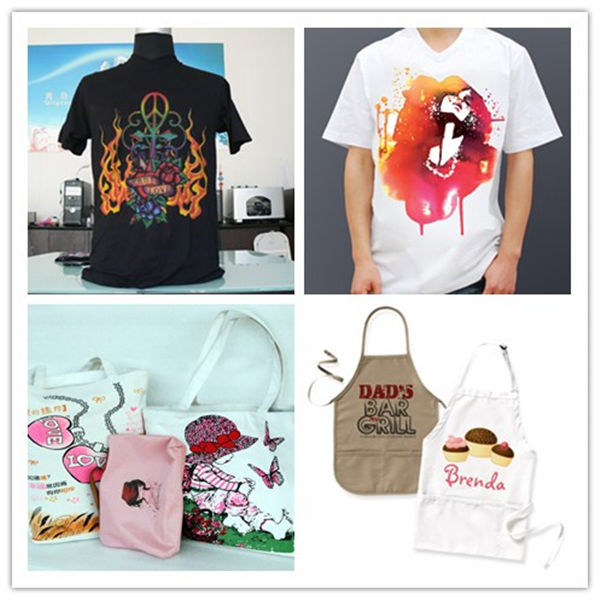 UV flatbed printer application
---
1, POP display boards
POP displays a wide picture of one of the most important applications, namely digital printing, there are printing or screen printing, and a total of 42 percent of the market wide image. With UV ink printed directly on a rigid substrate, such as: KT board, acrylic plate, plexiglass panels, etc., reduce the film, fade, bubble trouble, but save a lot of labor.
2, the rigid plate
Hard of signs much like POP, flatbed printer is the beneficiary, using UV ink for ink flatbed inkjet printer directly to the final plate material, such as metal, wood, plastic and so on. Compared with traditional practices: printing or printing on a foil-like material with adhesive paste and then go up, reducing the process, reduce costs, and increase the firm level.
3, cardboard or corrugated packaging
Target applications flatbed printer is another well-established packaging, a global market is expected to be over 80 billion US dollars of big business. The main use of flexographic printing, screen printing, stencilling and packaging companies, can purchase flatbed printer for proofing customers and customized for small quantities direct output.
4, the professional market (special products and decorative market)
The final field of application is the professional market, or personalized marketing. Toilet cover printing belongs to this market, other potential opportunities include: glass, ceramics, wood, and even furniture. Overall: We should first aim inefficiency, low productivity of manual or semi-automatic screen printing market, flatbed printer is more suitable for small quantities of personalized production, while the cost of the traditional way of production is very high, especially in the presence a high inventory of raw materials costs.
If the world has thousands of flat-printer installation, it is clear, Multi function single print head small uv flatbed printer,quantifiable flatbed printer has a constantly growing market. In the near future, the production capacity of the manufacturers because they can not meet the market demand, after many customers placing orders, it will wait a long time. Based on this flatbed printer market optimism for understanding, someday, flatbed printer will be ubiquitous, more popular than the inkjet system.
Environmental UV inks
UV flatbed inkjet printers use ink, with national attention on the environment and environmental protection, environmental protection equipment and ancillary media will have more stringent market regulation. It is worth mentioning that the benefits of using UV ink, its features are: print stability, colorful, curing high strength, low energy curing, odor-free environment. Multi applicability and broad prospects UV inks to provide customers with more opportunities for development.
Advantage uv curing flatbed printer cold light lamp
UV flatbed printer Advantage
---
1, using the latest technology focus type reflector so that the reflected UV light energy is concentrated, high-efficiency light-cured, in favor of thick ink curing ink, ink can deep fully cured, dry quickly, to avoid air dust pollution, the impact of printing.
2, choose the best mirror aluminum plate, uv cold light reflectivity of 90% or more, greatly improving the utilization of ultraviolet and reduce energy consumption; unlike some modification of small manufacturers, steel set iron to deceive customers, not only short life, and poor reflection efficiency, resulting in dried ink can not be cured.
3, due to the different ink curing under ultraviolet wavelengths is not the same, so the need to match the special uv light. How to ensure the uv lamp nominal full-power output has become a top priority in selecting a transformer above, my company imported EU transformer, long life, and stability is more than three times the ordinary life of the transformer.
4, lampshade size and shape of the design concept, this is our patented technology. Different power uv lamp emitted light is not the same, not simply light shines on the printed material on the can, there involves ultraviolet utilization and conversion rate, the golden ratio perfect mold shape, so that the ultraviolet light loss rate dropped to 10 percent or less, and the corresponding utilization and conversion rate reached 90 percent, to ensure that the UV ink is synchronized with the frequency stability and longevity, allowing you to print truly fight that is dry, but deep, more than 95 percent of the interior dry.
UV flatbed printer maintenance
---
1, UV flatbed printer to ensure clean surroundings. Work environment too much dust, easily lead to poor lubrication carriage guide shaft, the print head is moved in the printing process is blocked, causing the printing position is not accurate or impact damage to the mechanical frame and crashes. When the print head does not return to the original position and re-boot, the printer will print heads back to the initial position, followed by cleaning nozzle operation, Multi function single print head small uv flatbed printer,it will cause unnecessary waste of ink. Solution to this problem is to regularly wipe the dust guide shaft, and the guide shaft lubrication (optional good fluidity lubricants, such as sewing machine oil).
2, must ensure that UV flatbed printer has a solid working platform, do not place anything on top of uv flatbed printer. The printer must be turned off when printing its front cover to prevent dust from entering the machine other hard materials that could obstruct the movement of the trolley or the printer. Prohibition hot plug the printer cable, this will damage the printer and printer port PC parallel port, or even serious damage to the motherboard of the PC. If the printout is not clear, available printers cleaning nozzle automatic cleaning function, but consumes a small amount of ink. If after several continuous cleaning print still not satisfied, then the ink may have run out, we need to replace the cartridge.
3, before the shutdown, the print head back to the initial position (the printer in pause state,Multi function single print head small uv flatbed printer, the print head automatically returns to the initial position). This one printer to avoid re-operation of the cleaning nozzle ink waste the next boot, and second, because the nozzle can be protected in the initial position of the sealing cap, so that the nozzle clogging.
4, cartridge needs regular Correction: There is experience of the user's printer knows that printer cartridges or reload for a new printer cartridge later to be corrected to improve the printing accuracy and print quality.
5, when the cartridge is not used, Multi function single print head small uv flatbed printer,it is best not to remove, so as to avoid waste or printer ink for ink metering errors.
6, the ink cartridge in use should be left at room temperature for long periods of direct sunlight. In this environment, because the ink evaporate quickly, it is likely to cause nozzle clogging. Also in the cool, damp environment, the print head and ink circuits are prone to problems.
7, when changing the ink cartridge must be in accordance with the operating manual steps, with particular attention to the above operations in the power is on. Because after replacing the ink cartridges, printer ink delivery system will charge the ink, and this process will not be turned off, the printer can not detect the re-install the cartridges. In addition, some printer ink metering capacity for the use of electronic counters inside the printer to carry out (especially in color ink usage statistics on), when the counter reaches a certain value, the printer ink end judgment. In the cartridge replacement procedure, the printer will reset its internal electronic counter, thus confirming the installation of a new cartridge.
8, In addition, Multi function single print head small uv flatbed printer,uv flatbed printer grating strips, but also good protection, do not lay a hand, do not let dust, avoid positioning allowed.
UV printer is a high-tech full-color digital presses Free plate: it is not subject to any material restrictions, in T-shirt, sliding doors, doors, sliding doors, glass, sheet metal, all kinds of signs, crystal, PVC, acrylic , metal, plastic, stone, leather and other surface color photo-printing. No plate printed once completed, beautiful rich color, wear-resistant, anti-UV, simple operation, fast printing images in full compliance with the printing industry standard.
It can be widely used in silk screen printing industry, gift processing industry, signs marking industry, decoration industry, personalized printing industry, and so on.
Decoration, decoration industry, glass industry, furniture sliding door industry, sign industry, exhibition industry, rigid cardboard packaging industry, textile and leather industries
The device widely printed material, the flexible media such as: timely posts, PVC, reflective film, canvas, carpet, leather; rigid media such as: glass, tile, metal, ceilings, aluminum, wood, door panels, acrylic panels, plexiglass plate , foam board, corrugated board.
UV printer industry technology
A, UV printer technology updates:
UV printer full color images at once, gradient fully achieve photo results, positioning accuracy, rate of zero waste, saving a lot of manpower and material resources.
UV printer to achieve a true no printing, leaflets consistent with batch processing costs, you can cost-effectively complete the short version of the live parts to help you add more business opportunities and profits. Complements the conventional screen printing process, not only for the small number of copies of the job, but also for proofing or analog image effects, customers from a variety of processes, select the most appropriate technology needed. Design, production process is simple, even a single person operation to meet customer delivery needs Lidengkequ.
Two, UV printer with higher accuracy:
The equipment used Japanese imports of new original Epson Micro Piezo print head, Multi function single print head small uv flatbed printer,Micro Piezo inkjet technology developed by Seiko Epson's patented technology. Many small piezoelectric ceramic will be placed near the print head nozzles, a piezoelectric ceramic having the extension or contraction deformation characteristic change in voltage at two ends, when a voltage is applied to the image information on the piezoelectric ceramic, the piezoelectric ceramic stretching vibration with the image information of the voltage change, and ink jet head at normal temperature and pressure of the steady state, effective control of droplet size and harmonic way, uniformly and accurately eject ink, thereby obtaining a high accuracy and resolution image color printout rate, while reducing the consumption of ink.
Three, UV printers wider application:
The device widely printed material, the flexible media such as: reflective film, canvas, carpet, leather; rigid media such as: glass, wood crafts picture frames, ceilings, aluminum, wood, door panels, acrylic panels, plexiglass panels, Chevron board , corrugated board, plastic board, resin board, gypsum board; a variety of products such as housing media: MP3 music player housing, a camera shell, shell Bluetooth headset, cell phone case, refrigerator case, laptop case and so on.
D, UV printer technical support:
UV printer printing architecture: the use of fixed platforms adsorption media, materials motionless, relying on adsorption and pressure roller to maintain flatness screw driven crosshead print, enables the printing step. Platform structure as compared with the belt structure and the press wheel structure more suitable for heavy, large-size sheet printing.
UV printer head down automatically: automatic lift feature ensures precise adjustment of print height of 100mm in height according to material thickness.